Kiva
is a nonprofit organization founded in 2006 that is funded via individual and corporate donations. They crowdfund loans online, empowering underserved peoples from more than 80 countries with access to financial services. Their mission is to alleviate poverty and connect people by funding loans. So far, Kiva has reached borrowers in 82 countries, and 1.7 million Kiva lenders have lent over a billion dollars to family businesses. Their goal is to reach 2 million people soon and lend the next 1 billion dollars in a shorter amount of time.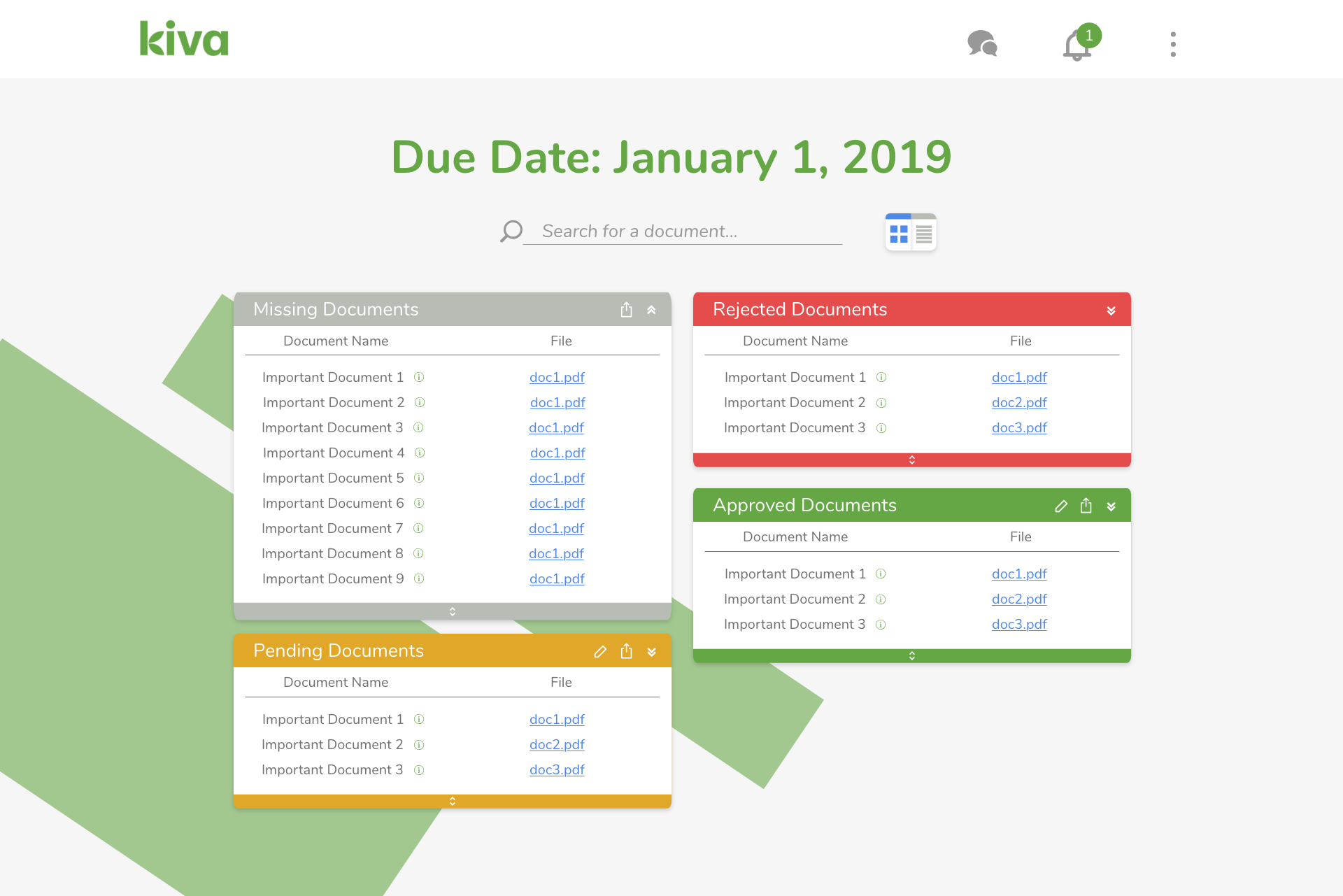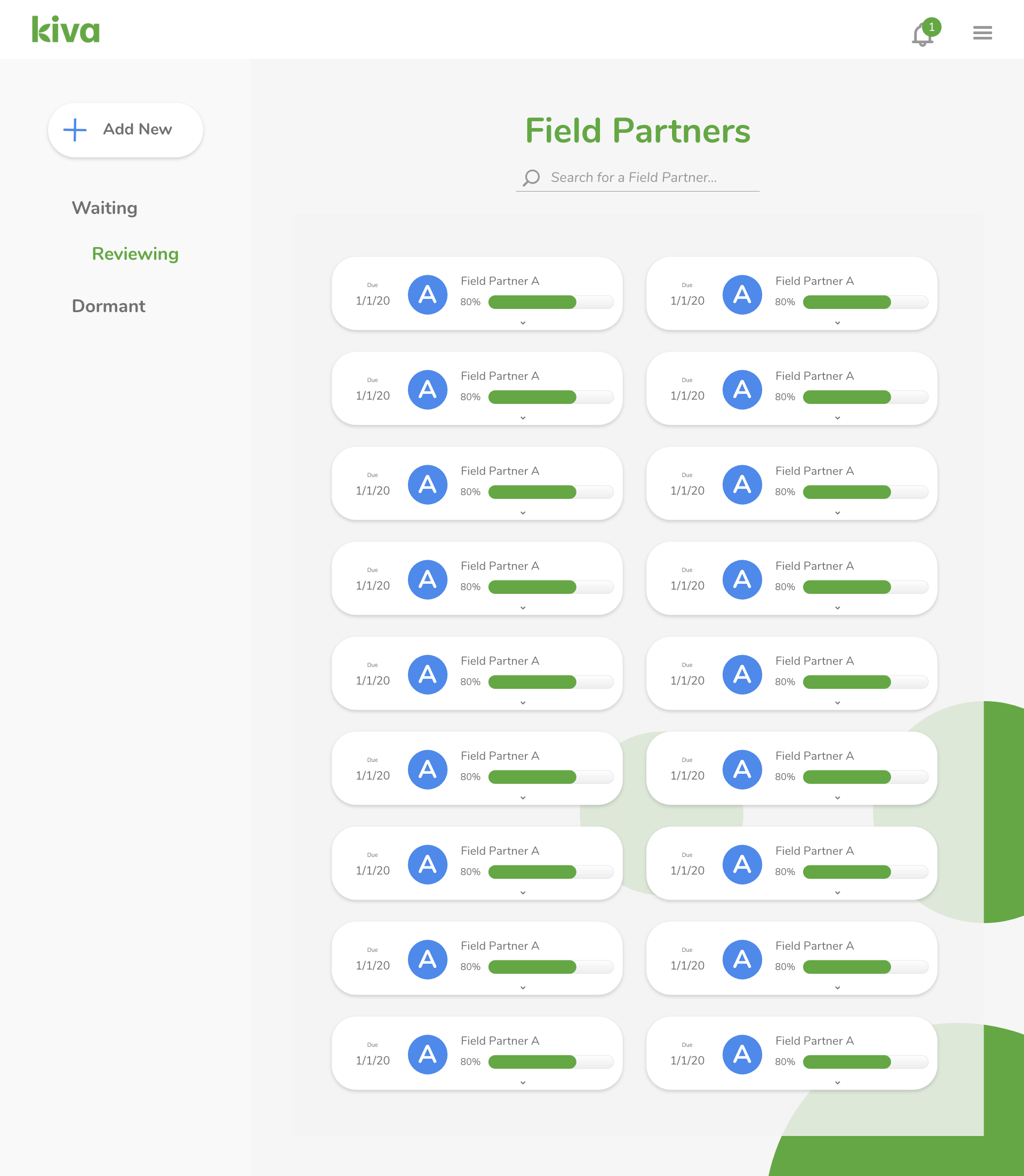 Kiva doesn't disburse loans itself; instead it relies on a network of Field Partners to screen borrowers, post loan requests to Kiva for funding, disburse loans on the ground and collect repayments. These Field Partners could be microfinance institutions, schools, NGOs, or social enterprises. Kiva Portfolio Managers are responsible for onboarding and overseeing Field Partners, and part of this process includes reviewing Field Partners' financial documents.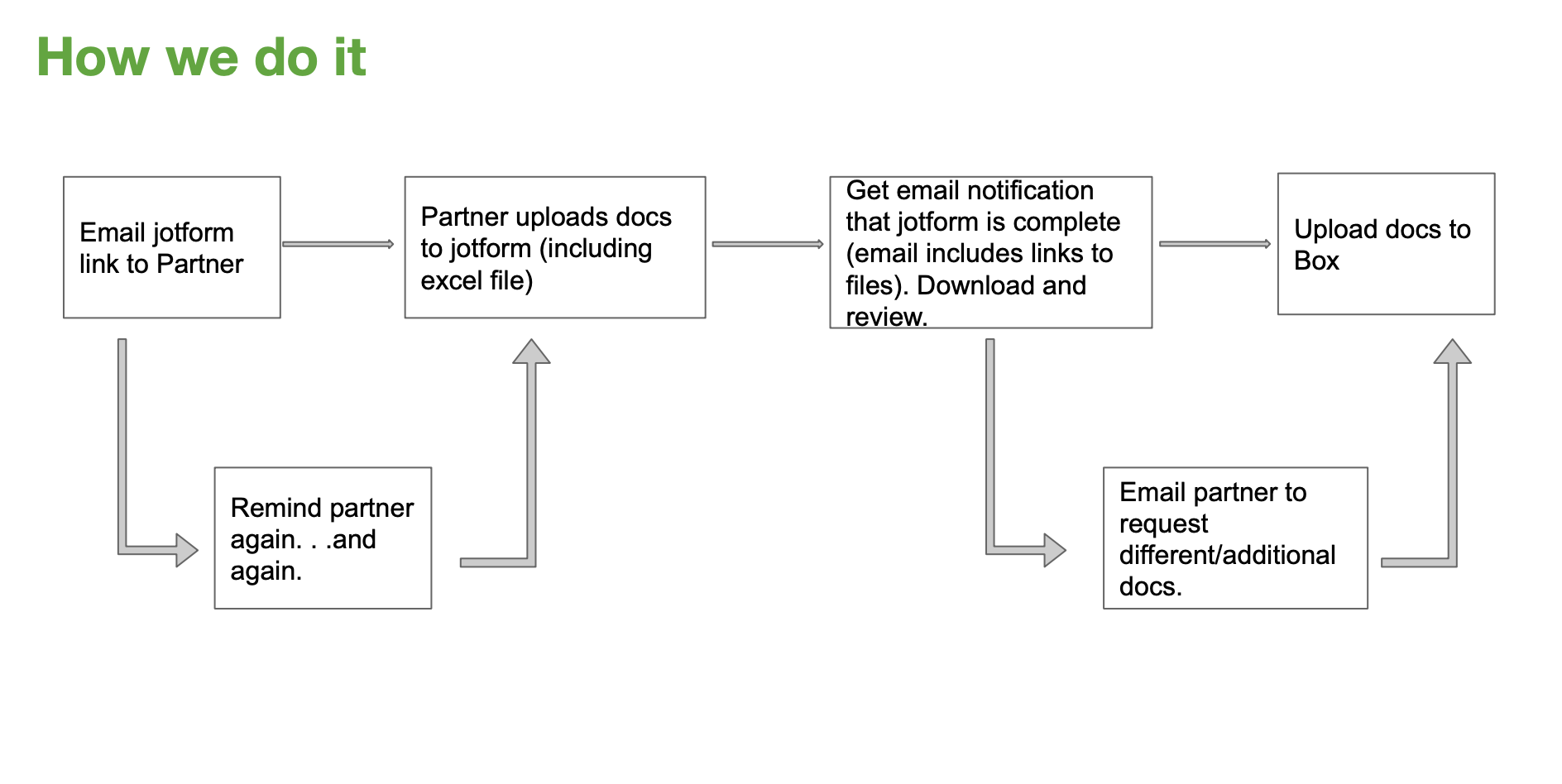 How might we expedite the reporting process with a single portal where Field Partners and Portfolio Managers can see which documents need to be uploaded and track their progress?
 Currently, the reviewing process is done across 5 different platforms:
Email
(communication),
JotForm
(file submission),
Excel
(additional financial information),
Box
(file storage), and
Google Drive
(progress tracking). The reviewing process takes place annually for each Field Partner, though this may be changed to quarterly in the near future for larger-scale Field Partners. 
Field Partner financial documents are submitted through Kiva through email and must be manually checked to make sure all documents are provided and are properly filled out/formatted/etc. All communication is done through email.
Our project, a web application, consolidates this process into a single portal where Field Partners and Portfolio Managers can see which documents need to be uploaded and track their progress, aiming to create a streamlined, secure portal that will eliminate the hassle of tracking multiple financial documents across a wide network of Field Partners.
Stakeholders and User Timelines
I identified two main stakeholders in the project: Field Partners and Portfolio Managers. I then outlined the different options and actions that each type of user would encounter at each step of the process. This helped inform and structure my designs, especially in the beginning.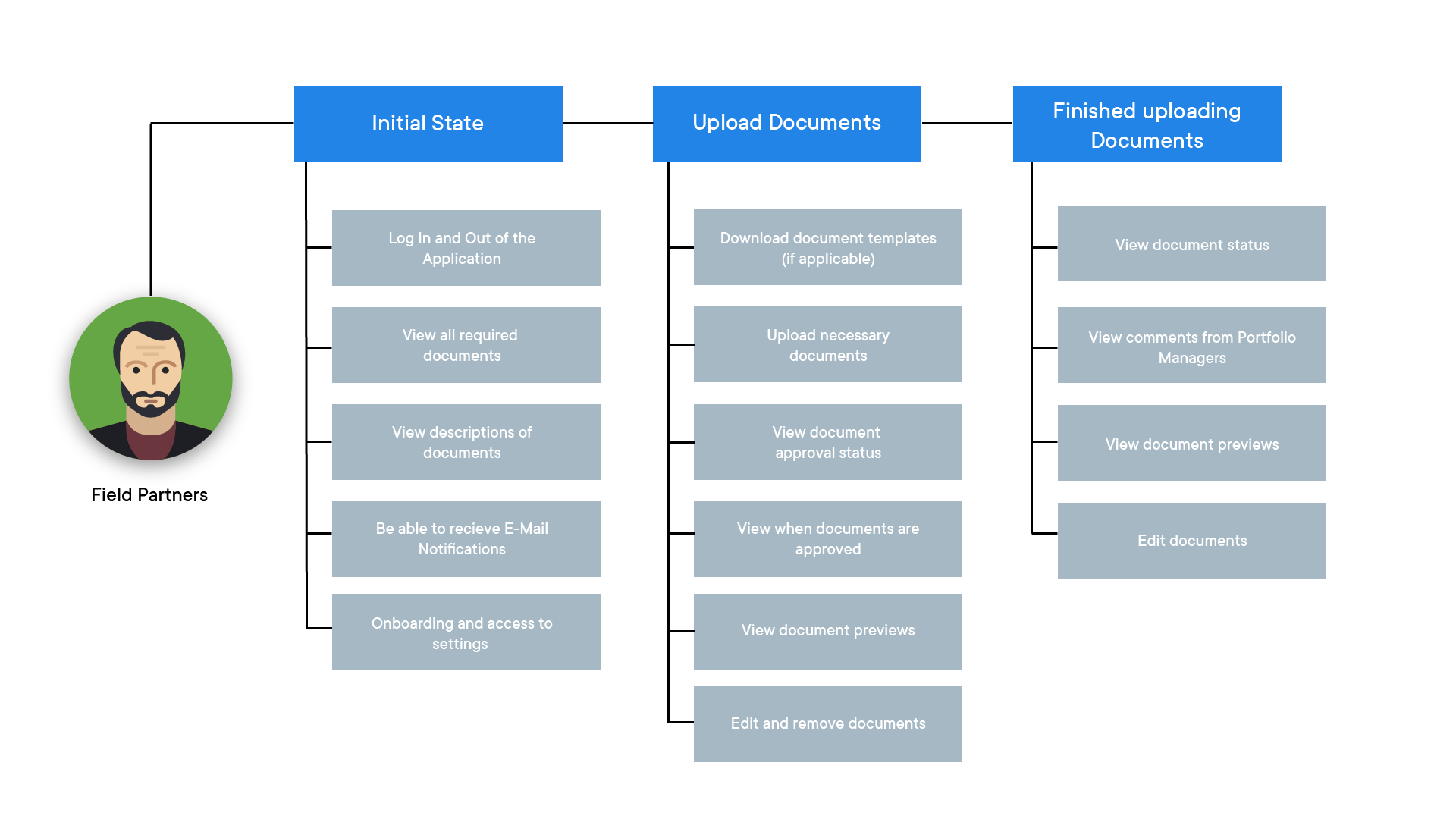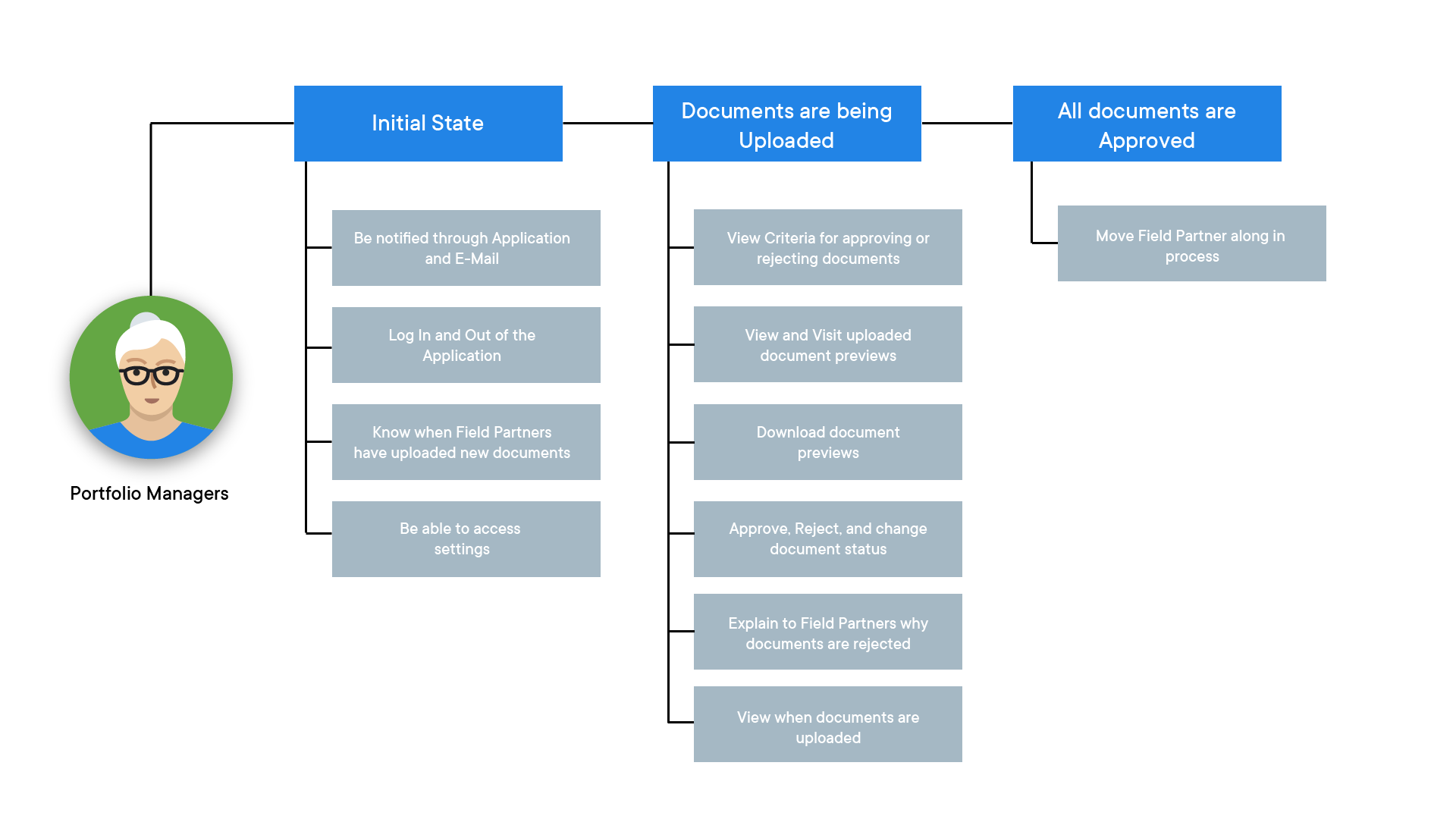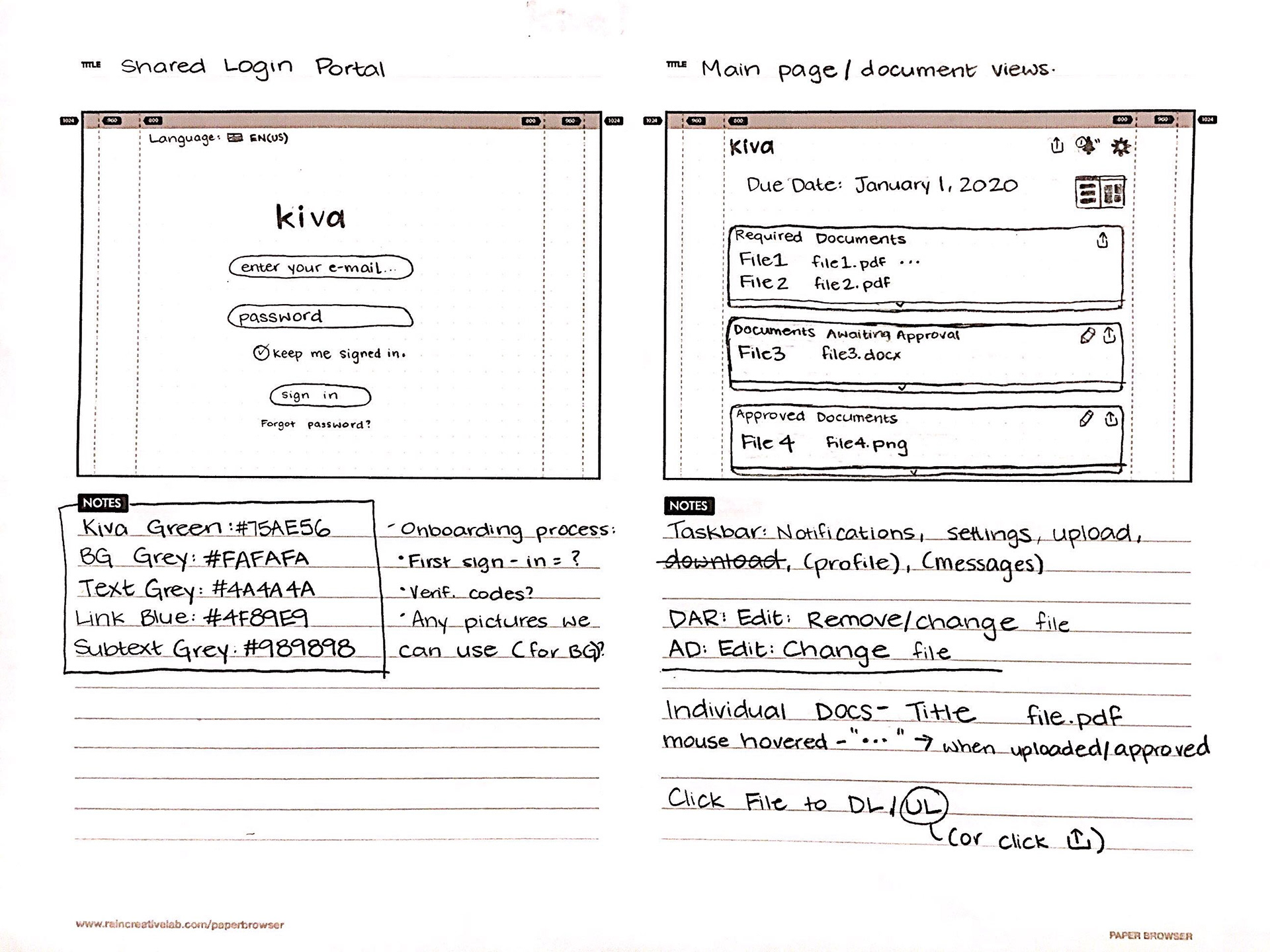 I started sketching out basic screens to draft out the core functionalities and structure of the web application.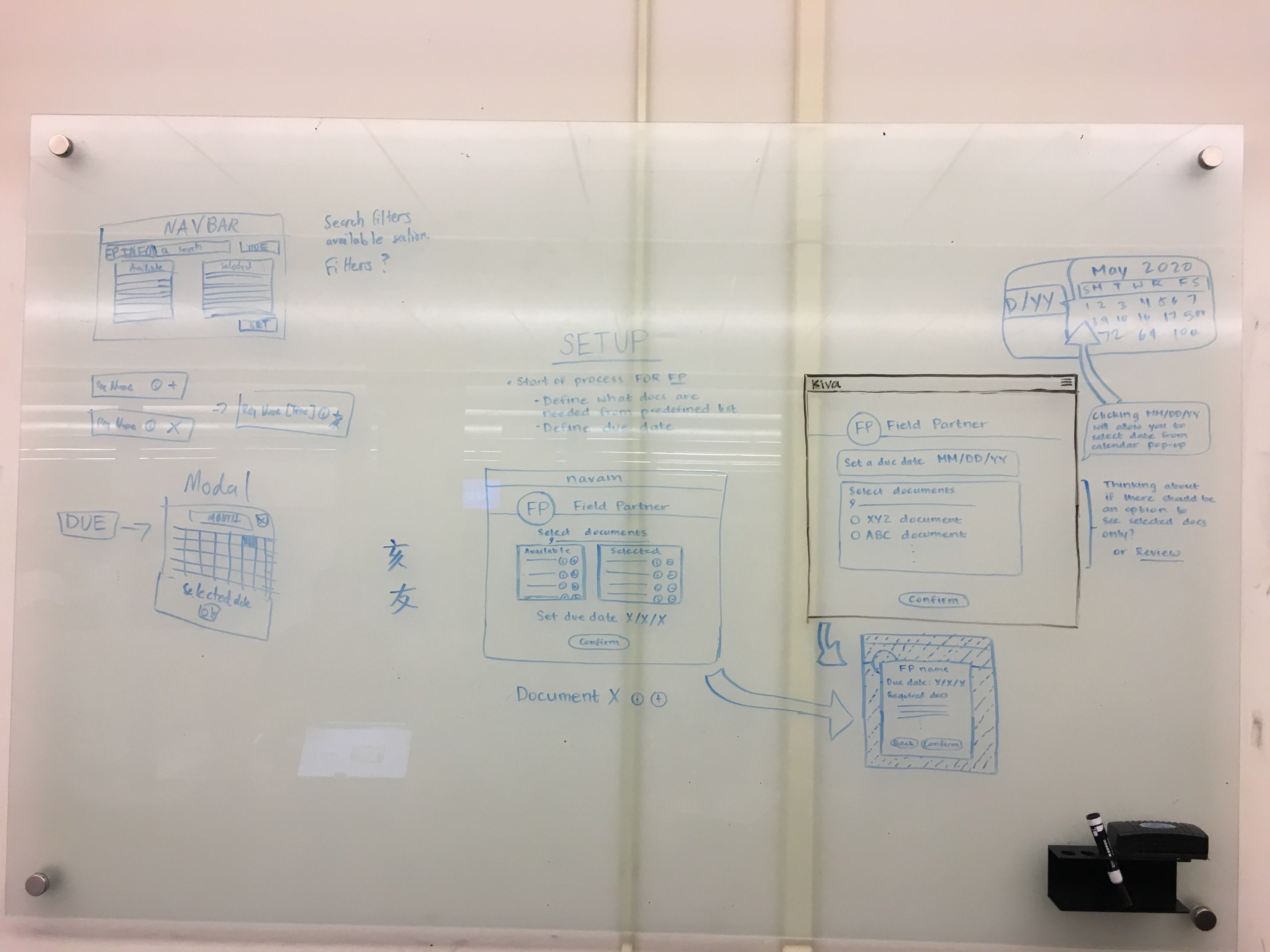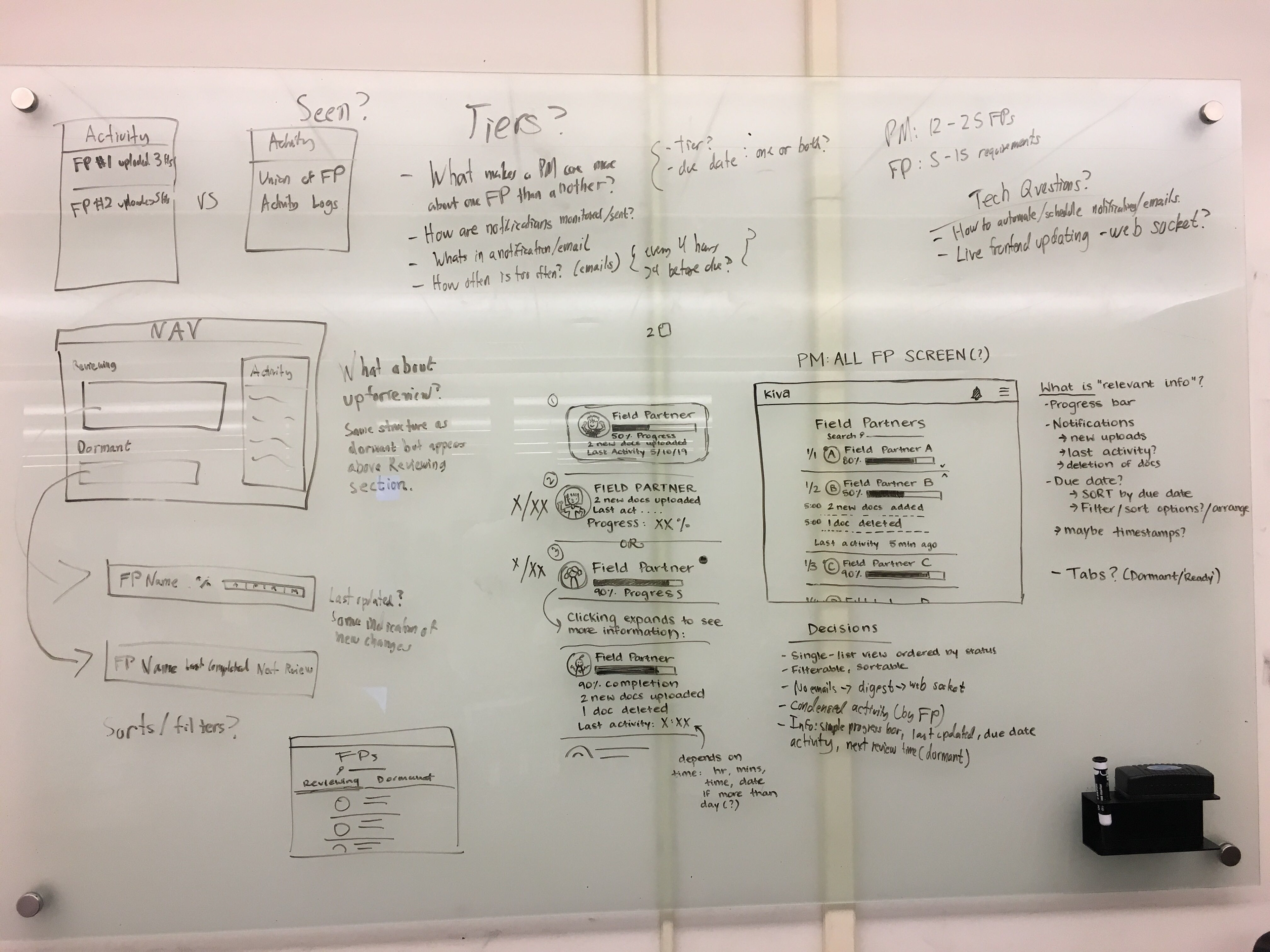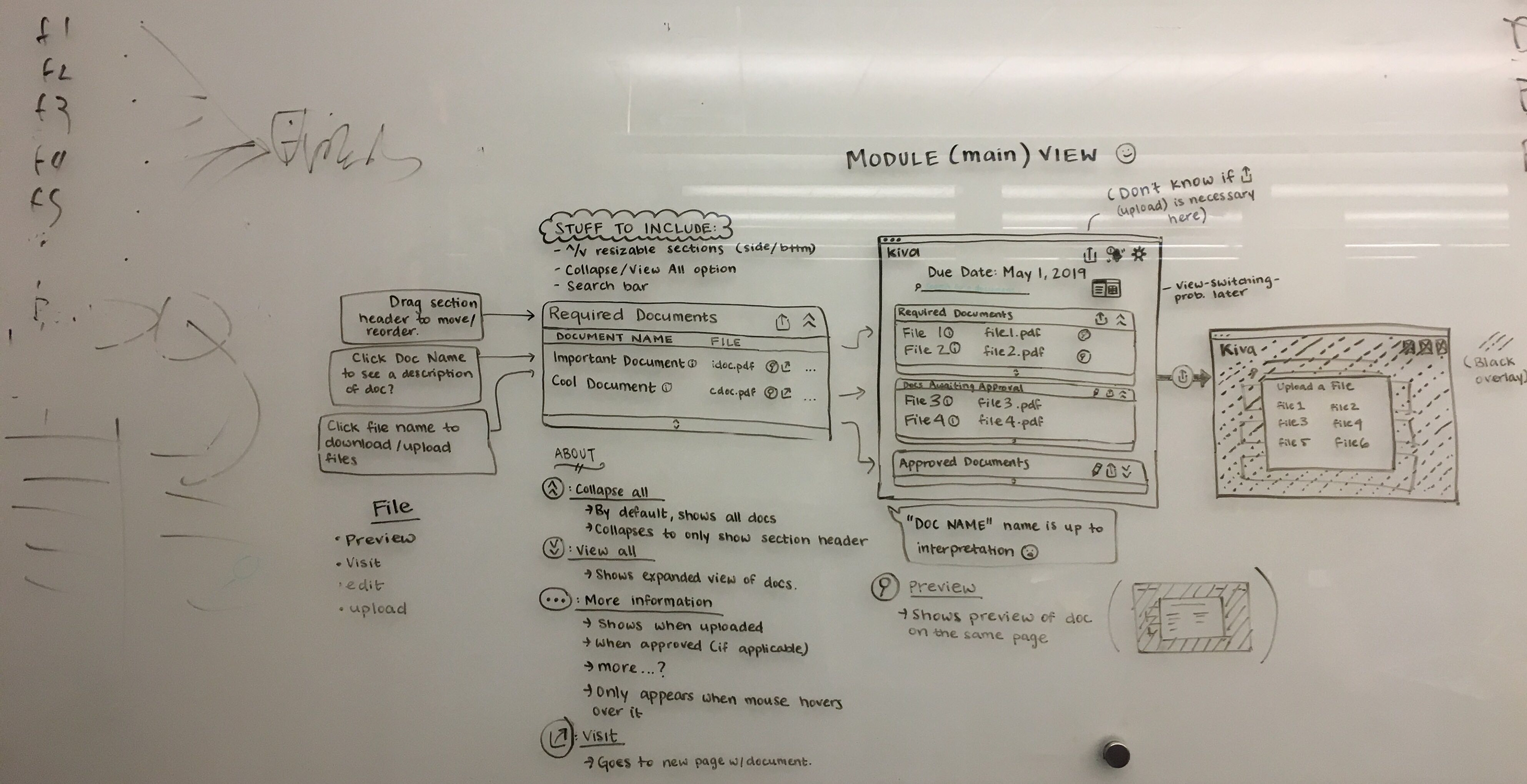 I shared the sketches that I drew with my entire team, and we began to develop the details and other functions of the application. I joined some calls with the client in which I was able to review my design and add features to it based on his experience as a portfolio manager.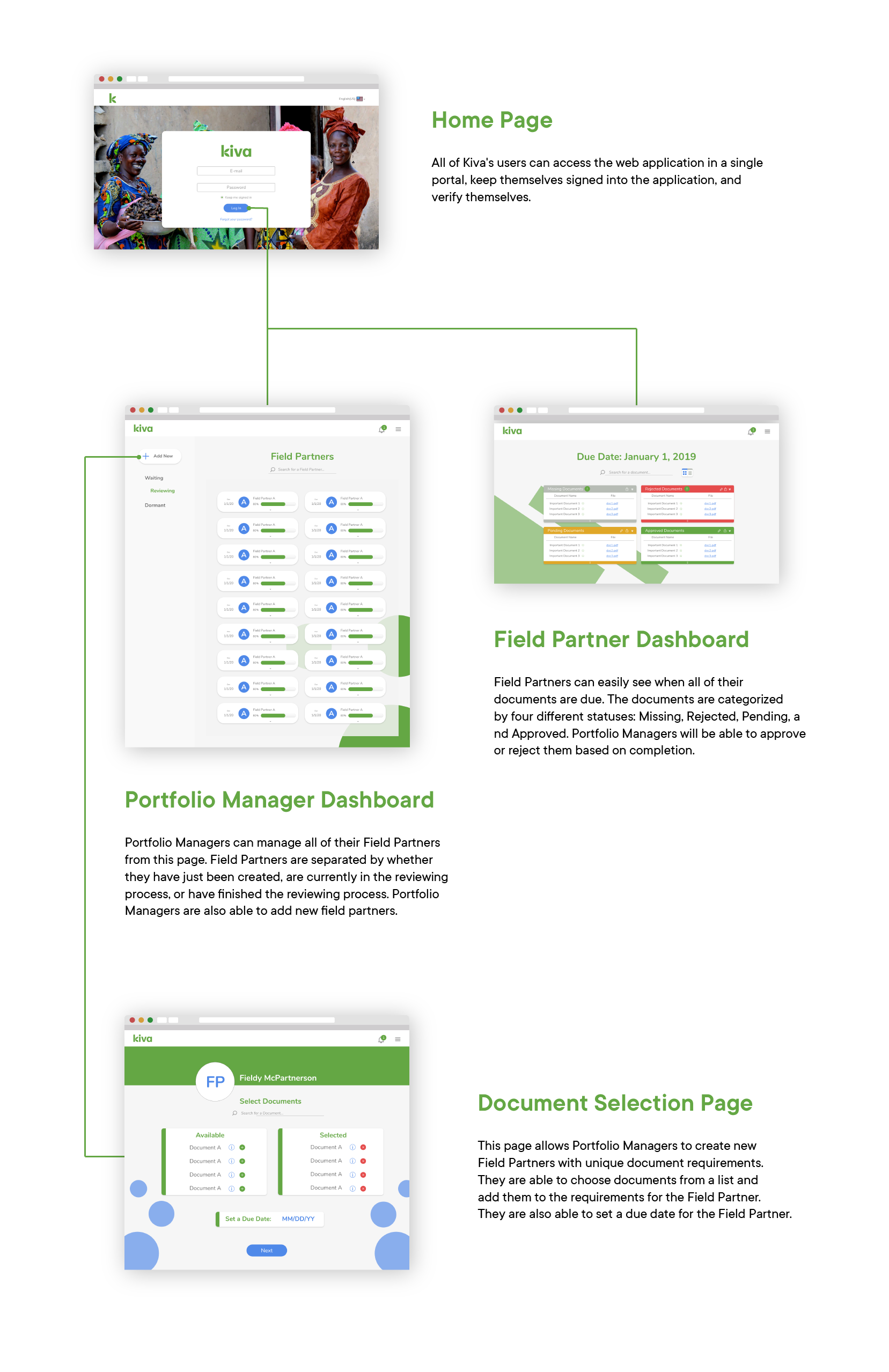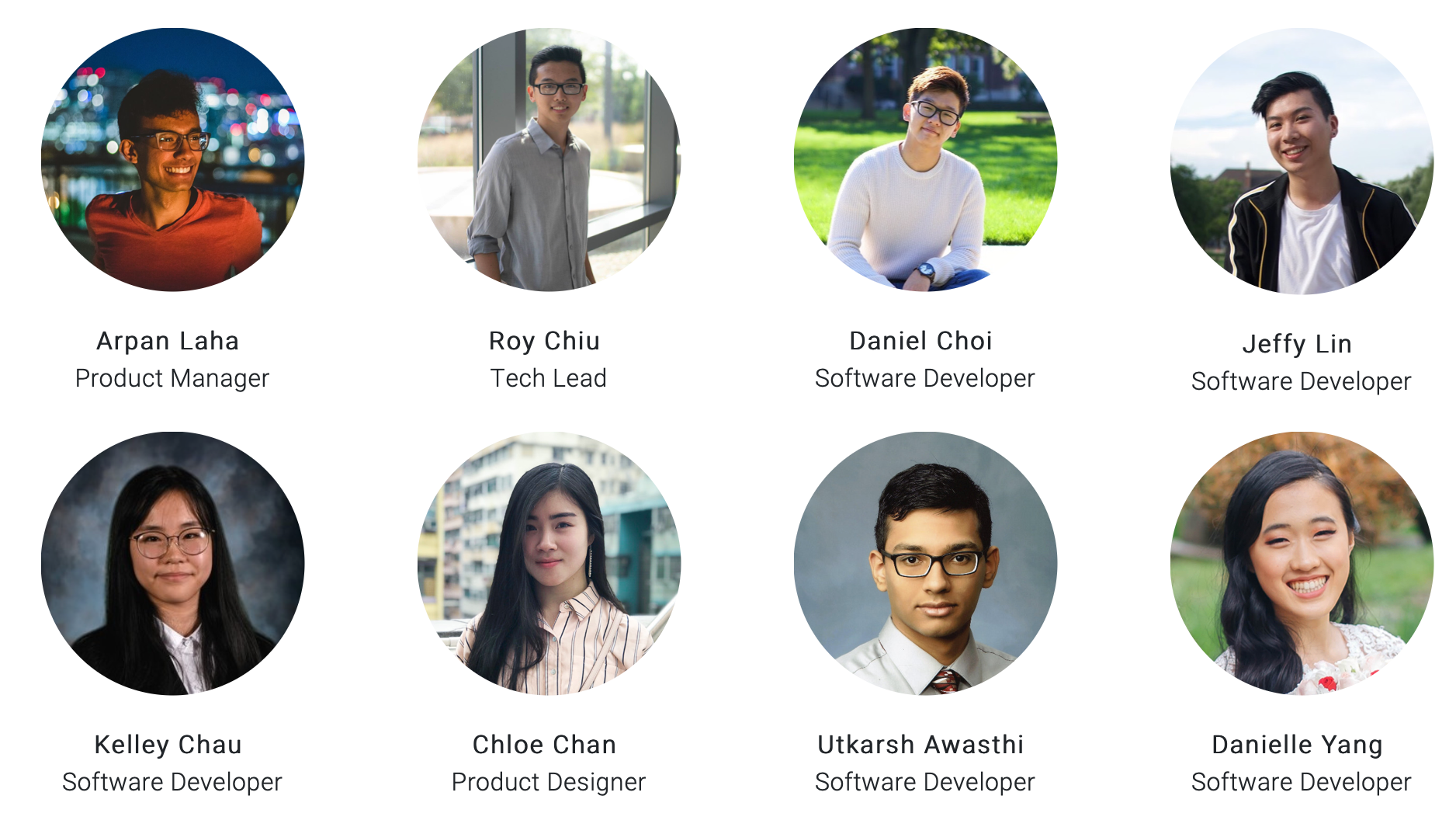 Read more about the Kiva Project here: